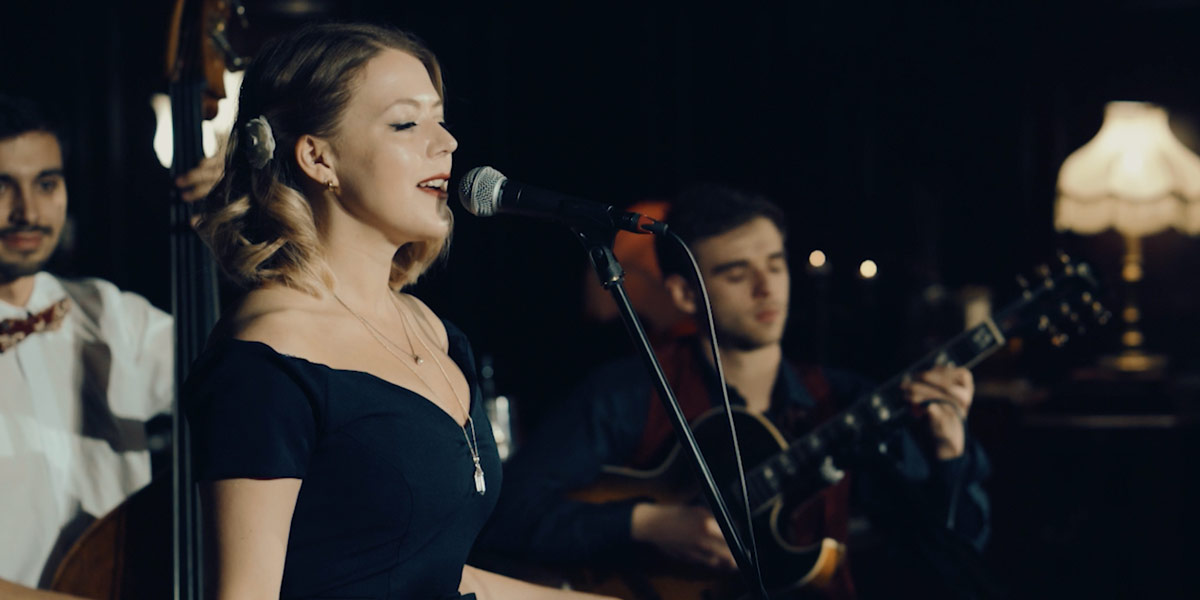 Jazz & Swing Bands with Vocals
Bands For Hire represent a vast quantity of superb jazz and swing bands with vocalists available at a highly competitive rate. Book now to serenade your guests with some of the smoothest singing ever to caress a troubled ear!
We're over the moon with the quality and quantity of our jazz singers here at Bands for Hire – our jazz and swing bands with vocals are fronted by some truly exceptional performers. Following in the footsteps of such jazz luminaries as Etta James, Ella Fitzgerald, Nina Simone, Amy Winehouse, Frank Sinatra and rat pack buddies Dean Martin and Sammy Davis Jr, our jazz singers for hire have all the style, charisma and vocal ability to hypnotise entire audiences from the first note uttered.
Jazz Bands with Male and Female Singers
We're a flexible and accommodating team here, so there's a fair amount of leeway when it comes to the shape and size of the swing bands with singers. We have soloists like jazz guitarists and jazz pianists, duos, trios, quartets, acoustic jazz bands, and swing bands with brass sections and backing singers to boot. Furthermore, to suit your venue and budget requirements more closely, our fronted jazz and swing bands can add and subtract members for a better fit – so let us know if you think you'd be better off with a jazz cocktail, acoustic or lounge set.
Genre-wise, we have jazz and swing bands with male vocals and female vocals who perform a myriad of jazz standards from the Great American Songbook crafted by the genius minds of George Gershwin and Irving Berlin, as well as more adventurous forays into cool jazz, trad jazz, Dixieland jazz, jazz funk and jazz fusion. The majority of our swing and jazz bands with vocals also like to jazz up songs from different genres – expect anything from Michael Jackson to Oasis to the Beatles, but don't expect to have heard anything like it before!
Jazz goes down a treat at most events, and our jazz bands with singers are bound to get your awards ceremony, graduation, birthday, wedding reception, garden party, charity ball, VIP party, corporate event, gala, summer fete, bar mitzvah, bat mitzvah, private dinner function or office party crowd going! Just select your event type from the drop down menu once you've clicked on your fronted jazz and swing band of choice, fill in your contact details, and it's smooth sailing from thereon in.