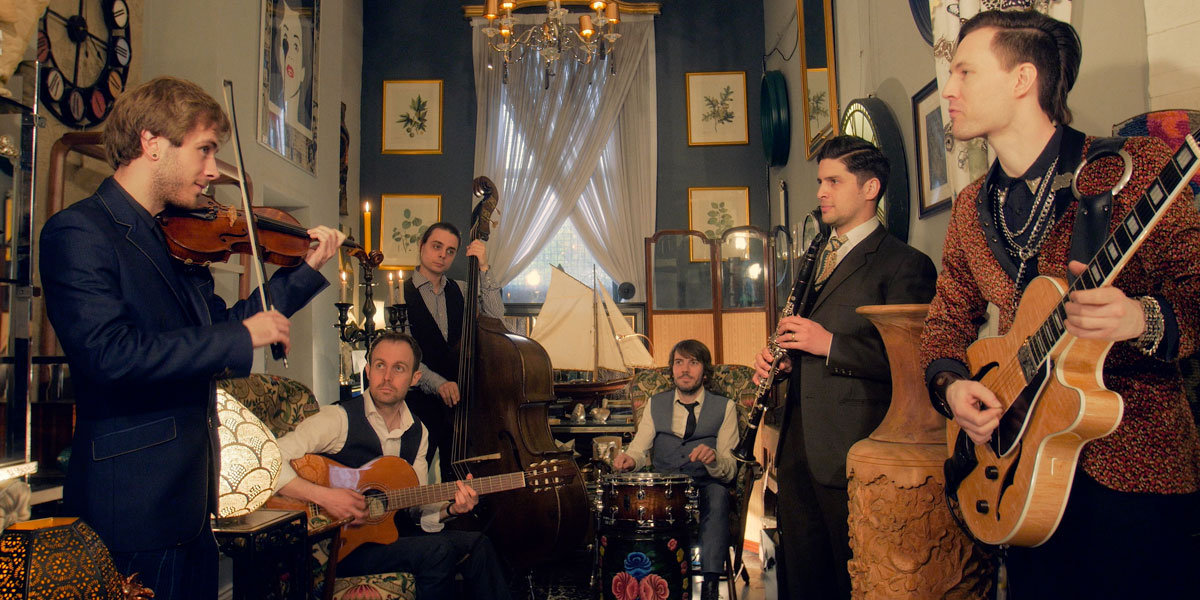 Gypsy Jazz Bands for Hire
Step into another world with our gypsy jazz bands – the upbeat and exotic sound of jazz introduced by the Romani folk to France in the 1930s, now available from Bands for Hire! Our terribly exciting gypsy jazz bands are phenomenal live – we've searching from bar to bordello to bring you the best of the bunch, and are delighted to now offer your their expertise at a highly competitive rate. All they require from you is a space to play and a crowd to blow away – our gypsy swing bands have performed all over the country in all kinds of venues, and they can't wait to show you what they're made of!
Hire a Gypsy Swing Band
This niche genre, also known as jazz manouche or hot club jazz, is believed by many to have been started by virtuoso guitarist Django Reinhardt – and many of Reinhardt's compositions have found their way into our gypsy jazz bands' repertoires. Our gypsy jazz bands also touch upon the work of Gabor Szabo, Martin Taylor, violinist Stephane Grappelli, as well as jazz standards from the Great American Songbook – plus several non-jazz songs – embellished with frenetic Romani rhythms.
Our gypsy jazz bands typically consist of various arrangements of players of such instruments as rhythm and lead guitar, violin, double bass, sometimes drums or other percussion, and is often largely instrumental. But don't worry if you think your guests will need something more than clustered chords and arpeggios from a far off land – our flexible and accommodating gypsy swing bands have draft members in and out if you'd prefer to have a vocalist or two at the helm. Just let us know what you have in mind and we'll do our best to oblige!
Hot Club Jazz Bands for Weddings, Parties and corporate Events
The sprightly energy that powers our gypsy jazz bands is exactly what your surprise birthday, bar mitzvah, charity event, summer ball, bat mitzvah, work Christmas do, office party, store opening, corporate event, garden party, fete, gala, street party, wedding reception, drinks reception – just be sure to leave room for dancing, as this is an inevitability!